The Auburn Beautification Commission strives to be a leader in the community of Auburn, NY through beautification initiatives, partnerships, and community outreach. Here are some past and present projects that the Auburn Beautification Commission has undertaken.
If you have a project you'd like the Auburn Beautification Commission to consider, or if you want to know more about any of these projects, please fill out this form and let us know!
Casey Park Figures
In collaboration with the Finger Lakes Art Council, the ABC is bringing painted plywood figures of notable historic people back to life. These revitalized figures will be displayed in public spaces for all to enjoy.
Casey Park Elementary School Courtyard
Several members of ABC teamed up with the AHS Z-Club, headed by Julie Liccion and Jake Coleman, to beautify the Casey Park Elementary courtyard in 2020 and 2021. It was a lot of hard work, but the end result is amazing and will benefit the students and staff of the school for years.
Tulips for SADD
In support of Auburn High School's Students Against Destructive Decisions group, the ABC sold, purchased and planted hundreds of tulip bulbs in select spots around the City.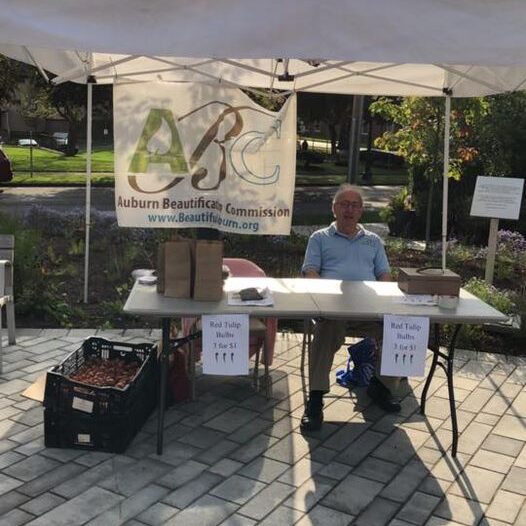 Market Street Concerts
The ABC co-sponsored a concert series in the renovated Market Street Park, with live musical performances every Thursday in July and August of 2019.
Thursday, July 11, 6:30 pm, Music: Inside Job
Thursday, July 18, 6:30 pm, Music: Blind sight
Thursday, July 25, 6:30 pm, Music: Nuclear Ukulele. This event is sponsored by Auburn Beautification Commission, Inc.
Thursday, Aug 1, 6:30 pm, Music: Mo & The Soul Show
Thursday, Aug 8, 6:30 pm, Music: Dirty Blanket
Thursday, Aug 15, 6:30 pm, Music: Red Spider – Syracuse NY
Thursday, Aug 22, 6:30 pm, Music: Infrared Radiation Orchestra
Thursday, Aug 29, 6:30 pm, Music: WoodStone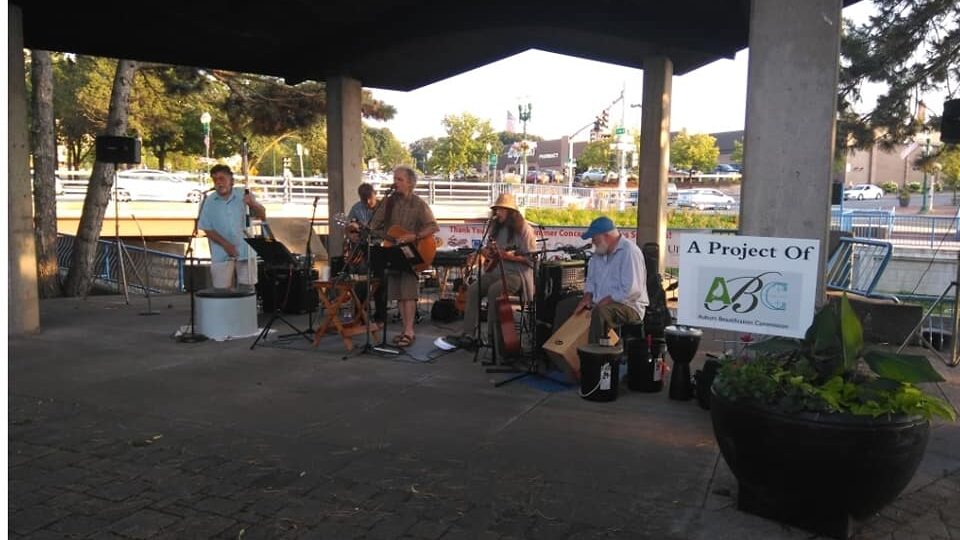 Franklin Street Median
The ABC pulled weeds and spread new mulch over the highly visible median on Franklin Street in 2019.
Dazzle in Downtown
Designed to highlight the attractive features of the city's bustling downtown area, the Dazzle in Downtown project included the installation of solar-powered, LED light strands, white in color, in the trees that line the streets of the Business Improvement District (BID) zone. The result lends a certain charm and vivaciousness to the area and its nightlife.
Welcome to Auburn Signs
The ABC partnered with IGNITE, Cayuga County's Young Professional Group to complete a makeover of the City of Auburn's gateway signage. Beginning in the Spring of 2012, this project included the removal, redesign and reinstallation of 2 new brick-clad "Welcome to Auburn" signs located on E. Genesee Street and Lake Avenue. These signs, along with plantings, create a charming first impression for our visitors and convey an image of a vibrant, prosperous community.
Summer Garden Tour
Showcasing Auburn's Residential and Public Gardens, ABC partnered with the Auburn BID and Downtown Books and Coffee to host a garden tour on Sunday, July 14, 2013. The tour began at Hoopes Park and tickets were $10. Attendees visited a variety of lovely home gardens and park gardens while supporting Auburn's on-going beautification projects.
Art Around Auburn
Launched in 2010, Art Around Auburn is an interpretive sculpture competition that invites area artists to create a large-scale outdoor sculpture based on a theme. In 2011, winning artist Audrey Iwanicki created the "Wheel to Reel" sculpture in honor of Theodore Case, inventor of sound-on-film technology and one of Auburn's most famous founding fathers. "Wheel to Reel" was unveiled at the 2011 Founders Day Celebration and still stands today on Exchange Street.
Community Mosaic Project
The ABC partnered with local artists Jesse Kline, Dave Tobin and Janie Darovskikh, financial supporter the Stardust Foundation of CNY and community volunteers to collaboratively produce two original "Community Mosaic Projects" (CMP) during the summer and fall of 2010. The Angelo's Pizza sign was recreated in a collage of broken tile, glass, mirror, mortar and pallet of vibrant colors bright enough to stop traffic on East Genesee Street. The canvas for the second mosaic project was the public space on Exchange Street, enhancing the existing low concrete walls with two new designs representing the beauty of our closest finger lake, Owasco Lake, and a pair of dragonflies symbolizing peace, prosperity, harmony and change.
Osborne Park
Osborne Park is located just east of downtown Auburn along Osborne Street and adjacent to the Grover Street Neighborhood. The park was originally the site of a City schoolhouse in the late 1800s. The schoolhouse was later demolished by the 1930s and the half-acre lot remained largely vacant until this ABC project in 2010.
In the spring of 2010, the ABC invited the City Planning and Engineering Departments to help design a new use for the currently vacant Osborne Park and:
Remove existing concrete walks from lot;
Install playground equipment including swings and climbing apparatus;
Install park benches, lighting and walkways;
Plant native trees and shrubs to encourage wildlife;
Install and replace dilapidated fencing to improve park safety;
Repair existing masonry columns that define park entrances; and
Install Park signage.
The completed park is a gem in the neighborhood, popular among kids and families and offering a beautiful corner at the intersection of two busy streets.